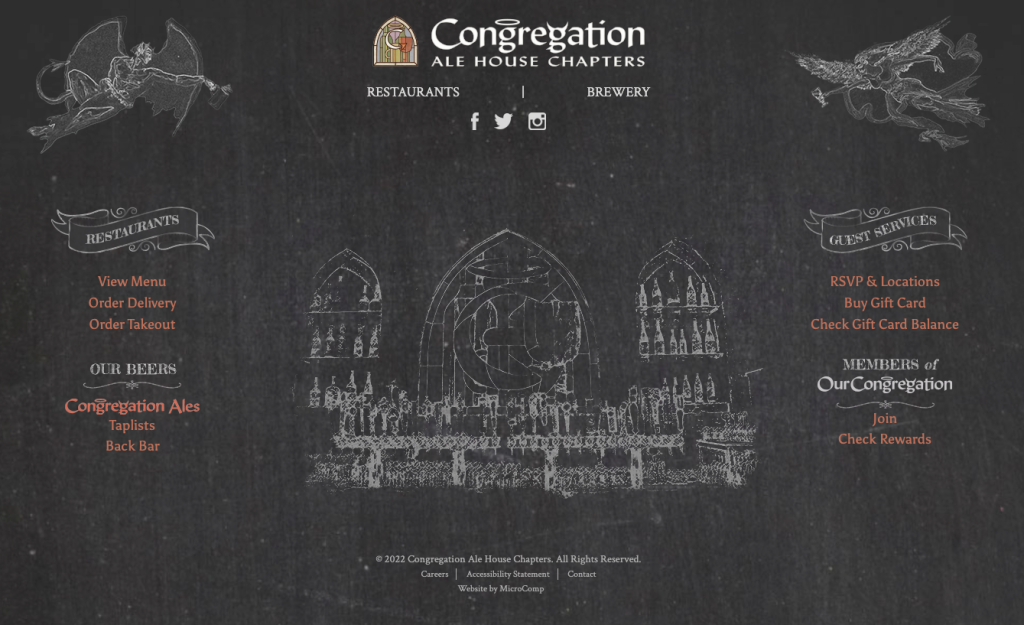 Congregation Ale House is a restaurant group with four locations in the city. They wanted to revamp their website to improve the customer experience and showcase their menu offerings in a more interactive and visually appealing way. They also wanted a way for their staff to easily update the menu on the website, which would then be displayed on large TV screens at each of the restaurant locations.
The project began with the design of the website's graphic interface. The design team worked closely with the client to understand their vision and create a visually engaging website that reflected the Congregationale House brand. Once the design was approved, the development team began building the website using WordPress as the platform.
The website featured active menus for each of the four restaurant locations, which could be easily updated by the staff through a login portal. These updates would then be immediately reflected on the website and on the large TV screens at the restaurant locations, which were designed to look like chalkboards.
In addition to the menu updates, the website also featured an events calendar and an online reservation system to make it easy for customers to book a table at their desired location.
The new website was launched and received positive feedback from customers and staff. The ability for staff to easily update the menu on the website and have those updates reflected on the large TV screens helped to keep the menu offerings up-to-date and accurate. The events calendar and online reservation system also helped to increase customer engagement and convenience.
The website's design helped to create a visually pleasing user experience which helped to improve customer engagement. The website was also optimized for SEO which helped to boost the website visibility on search engines and attract more visitors to the website.
Overall, the project was a success in meeting the client's goals of improving customer engagement and showcasing their menu offerings in a visually appealing way, as well as simplifying the menu updating process for staff.
Let's get your website in tip top shape