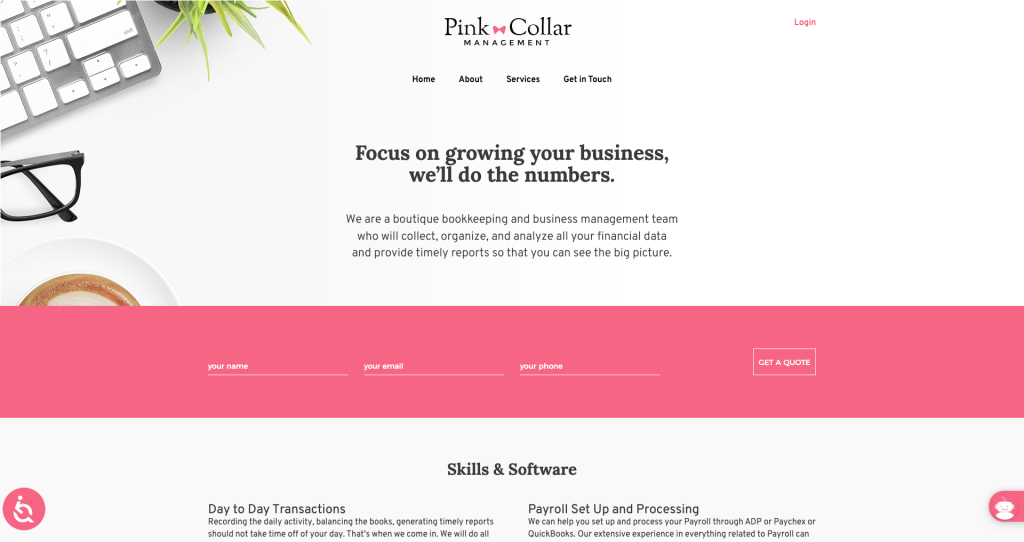 Pink Collar Management, a management consulting firm, came to us with the goal of creating a strong and professional brand identity to reflect their services. They were in need of a new logo, business cards, and a website to showcase their expertise and connect with potential clients.
We began the project by working with the Pink Collar Management team to understand their vision for their brand and target audience. From this, we developed a color palette that reflected the professionalism and trustworthiness they wanted to convey. We then designed a simple and elegant logo that was easy to read and memorable.
Once the brand identity elements were established, we turned our attention to the website. We built the website using WordPress, which allowed us to create a custom design while still leveraging the platform's robust content management features. The website included an about page, a services page, a blog, and a contact form to make it easy for visitors to reach out to the Pink Collar Management team.
We utilized design elements from the brand identity, such as the color palette and logo, throughout the website to create a cohesive look and feel. Additionally, we made sure the website was optimized for search engines and responsive to work seamlessly across different devices.
Overall, the project was a success and the Pink Collar Management team was very happy with their new brand identity and website. They reported a significant increase in website traffic and positive feedback from clients, which they attributed to the professional and polished look of their new brand and website.
Let's get your website in tip top shape